END OF YEAR SALE UP TO 50% OFF
Dog Grooming Diploma
7-Day Money Back Guarantee
Lifetime Access Worldwide
This offer ends in 19 days
Now Only
Payment Plan $25/wk
Are you searching for an online dog grooming course that will equip you with the skills and knowledge to start your own dog grooming business?
Look no further than this unique online Dog Grooming Diploma, designed specifically for individuals who are passionate about dogs and want to turn their love for them into a rewarding career.
This course, taught by a professional groomer covers all the hands-on skills and techniques that you will need to succeed in the industry. From bathing, nail trimming, and scissoring, to behaviour, handling, and first aid, we provide the most up-to-date and industry-relevant grooming practices. View course modules.
You'll not only master breed-specific grooming techniques and coat types, but also learn how to identify a dog's body and head shape, enabling you to apply a mix-and-match technique to groom and style any breed or crossbreed that you encounter.
One of the unique features of this course is that it's online, meaning that you can study at your own pace, without any deadlines. We understand that everyone has different schedules, so we provide 24/7 unlimited access to detailed lessons, video tutorials, and carefully designed assessments mentored by our expert groomer, Hannah Grice.
This dog grooming course is suitable for learners of all ages, with no prior experience required. We believe that with the right training and passion, anyone can become a successful dog groomer and stand out in this rewarding industry.
What set's us apart?

Employment Options
Tools, Products & Equipment
Combs, Brushes, Shedding Aids, Scissors, Clippers, Blades, Guard Combs
Canine Care & First Aid
ANKC Breed Group Knowledge
Canine Anatomy
Positive Handling Techniques
Dealing with Aggressive or Fearful Dogs
Disease & Skin Disorders
Genetics
Essential Health Check
Bathing
Coat Types
Head Shapes
Mixed Breed Grooming
Breed Specific Grooming (Groups 1-7)
Scissoring Skills
Body Shapes
Styling & Clipping Techniques
Fluff Drying & Stretch Drying
Puppy Grooms
Creating a Customer Base
Setting up Your Business
Grooming at Home or Mobile
Marketing & Growing Your Business
Equipment Checklist, Blade Size Chart, Canine Disease Chart, Dog Health Assessment Template, Business Plan Template & Income Projection Template & more.
Lisa's Grooming Journey, Salon Tour, Grooming Tools & Equipment, Setting Up The Business, Insurance.
Start anytime and study at your own pace. No deadlines or classroom attendance required.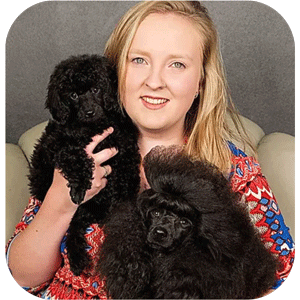 "I'm always here to help and am very easy to approach."
I am a passionate animal lover and certified Heiniger Academy groomer, with over a decade of hands-on experience working with dogs of all shapes and sizes.
My passion for dog grooming started at an early age, having trained under some of the most respected professionals in the industry.
Alongside running my own successful grooming salon, I've become a professional educator, committed to raising the industry standards and guiding aspiring dog groomers to follow in my footsteps and become confident and competent dog grooming professionals.
Read Hannah Grice's Profile
Frequently Asked Questions
Yes, we offer a 7-day money-back guarantee. During that time, you'll have access to all the materials. If you decide the course isn't right for you, just send us an email to get a full refund.
This course is designed for self-paced learning, which means you have the freedom to study on your own schedule.
There are no time limits or deadlines, and you have 24/7 access to the course. You'll have all the flexibility and convenience to balance your studies with other commitments.
Dog grooming is not a regulated industry, so there is no government certificate required to work as a groomer. However, having professional training is important if you want to provide the best service to your clients.
This course is designed by an experienced grooming educator and mentored by practicing groomers to provide up-to-date and expert guidance.
Yes there are short-answer assessments which you will submit to your course mentor. Additionally there are multiple choice quizzes that you can complete as many times as you need to.
These assessments will help you understand the material and will reinforce your learning. There are no deadlines on any of the assessments.
You have lifetime access to your course.
No, there's no need to buy equipment before enrolling in the course. The practical tasks in the course are optional, and if you choose to complete them, you'll only need basic supplies.
Yes, we've partnered with
Artemis Grooming Supplies
, one of the top pet grooming supplies distributors in Australia, to offer our students up to 20% off on grooming supplies. So, you can get everything you need at a discounted price if and when you need it.
Yes, you can pay just $25 per week. If you would rather pay fortnightly or monthly, just let us know. Payment plans are interest-free and there are no credit checks.
Designed to fit your schedule
Our platform offers a seamless learning experience, designed to fit into any busy schedule. With 100% online accessibility, you can dive into our comprehensive lessons from any device, whenever and wherever you choose.
Our interactive approach combines;
On-demand video tutorials
Engaging interactive lessons
Mentor guided assessments
Experience instant access to a wealth of resources with free lifetime access to your course and our exclusive Facebook community, where you can connect with fellow students, seek guidance, and receive invaluable advice to kickstart your business.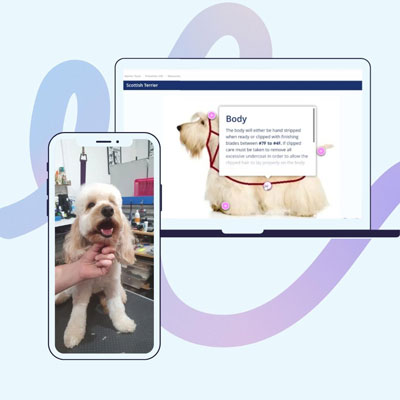 What people are saying about our courses
I recently had the pleasure of undertaking a grooming course that has truly been a transformative experience in my life. This course, designed to empower individuals to groom their pets with confidence, has exceeded my expectations in every way. Not only did it equip me with the skills needed to groom my own furry friends, but it also provided a safe and easygoing learning environment that has greatly helped me.
One of the most remarkable aspects of this course was...
Pay Upfront
Payment Plan
$25 per week for 26 weeks
total cost $749
7-day money back
The Learning Environment
From the moment that you enrol in the Dog Grooming Diploma you will become an integral part of our learning community. You'll find yourself with the freedom to learn at a speed that suits you, on any device, from anywhere in the world. Achieving your career goals no longer has to mean compromising family and work commitments.
Plus, with our payment plan, you can pay off your course for just $25 per week, making it affordable and accessible to all. Join us today and take the first step towards a brighter future.
Learn At Your Own Pace
We believe in personalised learning. That's why we provide all the tools and support you need to succeed at your own pace. With flexible learning, you'll stay motivated and retain more information. Plus, you can balance your studies with work and family commitments to make your dreams a reality.
We Won't Break The Bank
Education should be accessible to anyone who wants to learn. That's why we offer some of the most competitive prices in the industry with payments plans for just $25 per week. Investing in your future is a smart choice and doesn't have to break the bank.
Industry-Led Courses
There's no better way to learn than from experts with years of experience in your field. That's why each of our 200+ industry-led courses are designed to give you a real-life perspective on your industry. With our expert mentors, you'll learn from people who have a wealth of knowledge and experience, and who are passionate about sharing it with you.
Get The Personal Support You Deserve
At Vibe Learning, we're real people who are dedicated to providing you with personal support every step of the way. Our industry experts are not only professional and knowledgeable but also incredibly passionate about sharing their expertise with you. With their guidance, you'll gain invaluable insights and practical knowledge to help you succeed.
Still looking?
Check out the following courses related to Dog Grooming Diploma: