Can you imagine spending your professional life grooming dogs and maybe even owning your own successful business? If so why not become a professional dog groomer with Vibe Learning?
Quick Facts
Study for Just $25 a Week

Unlimited Access

Diploma

Instructed by a Professional

Videos & Practical Assessment

688 Students
Who's it for?
Individuals looking to become professional dog groomers
Individuals that want to start a dog grooming salon or work as a groomer

Lifetime Access
Receive unlimited lifetime access to your course. Unlike other online courses, we won't charge you expensive extension fees, instead we give you the flexibility to truly study at your own pace. Even after graduating, you can refer back anytime.
Unlimited lifetime access
No expensive extension fees
No deadlines

5 Day Money Back
Our 5 day money back guarantee gives you peace of mind that if for any reason you're not 100% happy, you'll receive your money back!
Peace of mind 5 day trial
100% money back
Course Overview
Become a professional dog groomer with this top selling one of a kind dog grooming diploma. This highly detailed online course is designed specifically for individuals that have a passion for dogs and who want to start a dog grooming business.
With no deadlines and 24/7 unlimited access you'll study details lessons, instructional videos and carefully designed assessments mentored by professional groomer Hannah Grice. Learning everything from bathing, nail trimming and scissoring to behaviour, handling and first aid.
Qualification and confidence are intertwined in this dog grooming online course. We do much more than just teach you the theory of dog grooming. Aimed towards learners of all ages with no prior experience, this course undoubtedly creates dog groomers of the best calibre. Yes that includes you!
Did you know we offer course bundles? Save hundreds when you combine this course in our Dog Grooming Diploma Course Bundle
Duration
Lifetime access, no deadlines
Average completion 6-8 months (when studied part time)
Self-paced online learning
Practical
No formal placement required
Groom your own or friends dogs
No expensive equipment required
During the course you'll have a chance to groom a variety of different dogs. There is no need to secure a formal placement, instead you can groom your own or friends dogs, or reach out to your local community or animal shelter for models. This is also a great way to build up interest in your salon for after you graduate. Learn more >

When I started I honestly didn't think an online course could give me this much of knowledge and confidence. All the information and suggested practical tasks are great. Big thanks to my tutor too.
Modules
This Dog Grooming Diploma includes twelve modules which carefully take you through the qualification from beginner to professional groomer. Covering the styling of all breed groups you will be sure to gain the extensive skills and confidence required to start your business after graduating.
Throughtout the course you will be asked to complete short answer assessments, submitted and marked by your mentor Hannah. You will receive personalised feedback designed to give you the skills and confience to grow in your role as a professional dog groomer.
This diploma has been written and developed by a professional dog groomer who ran her own successful mobile dog grooming business for many years. Her goal when writing the course was to impart her knowledge onto her students, offering you, her student the chance to pursue your dreams of starting a business just as she did. Each module includes real-life skills rather than just theory, which will be essential for you to apply to your business. With a consistent 5 star rating and so many success stories, this diploma comes highly recommended by previous students, check out some reviews.
This learning will help you to become a confident dog groomer that can read the behaviour of the dogs in your care. It will prepare you with a huge base of knowledge on a vast range of essential subjects as you qualify. By the time you download your certificate your confidence will be as secure as your qualification.
Social learning
Becoming a certified dog groomer is for the passionate and motivated, something we see in all of our students. Even though you will be studying online, you won't miss out on the social side of things as all students are invited to join our private Facebook group. Here our students share their stories, offering advice and tips to one another. We hear time and time again that our students LOVE the group as it's not only informative but truly inspiring to see your peers latest grooming pictures and hear about their successful businesses.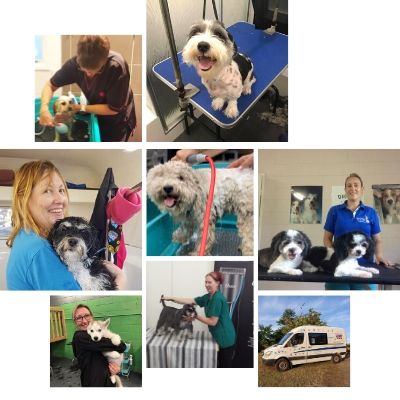 Be our next success story!
Whether you plan to open a salon or set up a mobile business is entirely up to you. We've seen hundreds of students achieve their dreams, embarking on careers as professional dog groomers. Check out some of our students work and their stories in our gallery.
Career outcomes
Home groomer, set up in a garage or spare bedroom
Mobile groomer, either in a van or mobile in home groomer
Working in a pet grooming salon with other qualified groomers.
Being your own boss and running a successful dog grooming salon.
Running your own dog wash service, either mobile or from home.
Each of the above exciting career posibilities are covered in this course, meaning that you're sure to find a career path to suit.
Anywhere that there are people, there will be dogs. The relationship between our two species is growing ever stronger and the dog breeds that we favour need regular care and consistent grooming. There are simply not enough qualified dog groomers to meet dog owner's needs, which provides an opening in the market. This is exactly why, when studying dog grooming, your future is bright. A profession as a qualified dog groomer is one of the most rewarding things that a dog lover can develop. This qualification will literally give you options that you may never have considered. Whether your future means you can work from home, or results in you running a successful mobile dog grooming business is up to you.
Not sure if you're ready to commit to a career as a dog groomer? Consider our shorter Certificate in Dog Grooming course.
Upon successful completion of your Dog Grooming Diploma you'll be sent your professional certificate to display in your salon.
We believe that education of great quality should be available to anyone who wants to learn. Yet we know that studying for a new career can be time consuming and expensive. Which is exactly why we have developed this course, helping you to change your life. By teaching you a brand new skill at an affordable price you will gain all the confidence that you need in order to successfully make dog grooming your lifestyle.
Vibe Learning brings you invaluable professional guidance from our industry expert tutor without the unnecessary structure or timetable of traditional classroom courses.
The Dog Grooming Diploma is exclusive to Vibe Learning and is not sold by any third party resellers.
Download your free course guide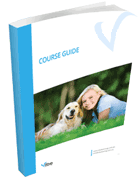 Who's the instructor?
Hannah is the owner and head groomer of her own boutique grooming business "The Dog House", which she initially started from her garage until outgrowing the space and moving to a commercial property. Hannah has an extensive list of credentials inc... Read more
Read Hannah Grice's Profile
What's involved?
Module 1 - The Grooming Kit
Module 2 - Canine Care and First Aid
Module 3 - Anatomy, Illness, Disease and Skin Disorders
Module 4 - Grooming in Practice
Module 5 - Genetic Understanding and Grooming Skills
Module 6 - Starting to Style
Module 7 - Poodles and Curly Coats
Module 8 - Terrier Grooming
Module 9 - Dog Styling Portfolio
Module 10 - Focus on Customer Skills
Module 11 - Setting up Your Business
Module 12 - Marketing and Business Growth
5
Therese

What do others think?
'I absolutely loved this diploma course.  I think the industry should be regulated as there is so much more to know than just how to groom a dog.  I will send an email as there is more I would like to say about this course.  Its fantastic.'
The Learning Environment
From the moment that you enrol in Dog Grooming Diploma you will become an integral part of our learning community. You will experience the perks of classroom studies such as chatting by the water cooler or sharing your opinion on a specific task, all in your own home.
Tutor support during your learning is flawless, friendly and encouraging. You will learn from your professional tutor who is not only knowledgeable and highly skilled but is a passionate industry expert. Our ethos is that if you succeed, we succeed. As with any studies, learning can be intense, yet you will soon realise that your hard work and commitment will be both personally and professionally rewarding.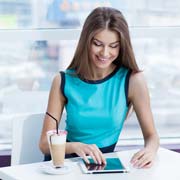 Why Choose Vibe Learning?
Learn Your Way
We understand that everyone works at their own pace and no two students are the same. That's why when you study with Vibe Learning we provide you with all the study guidelines, tools and support you need but leave you to set the pace. You are free to complete your assessments when and where you want.
We don't break the bank
With Vibe Learning we believe that education should be accessible to anyone who wants to learn. That's why we offer some of the most competitive prices in the industry. Investing in your future is a smart choice and doesn't have to break the bank. Whether you choose our money saving upfront prices or flexible payment plans, studying is accessible to you.
You'll get the personal attention you deserve
We are real people, providing real support every step of the way. When you study with Vibe Learning, you'll benefit from learning from professional, knowledgeable and most of all passionate industry experts.
Reap the rewards sooner rather than later
We offer a range of options from short 6 week courses through to extensive 12 month courses. Whatever your personal or professional goals, studying online with Vibe Learning provides a rewarding life changing experience which is well within your reach.
Learn real life skills
We don't profess to know everything about every industry. That's why, when we write a course we work with industry experts who do know everything! Before delivering a course we make sure that the following boxes have big green ticks in them;
The course is industry Current
The course is Relevant to our students
The course is Engaging and delivers outcomes
Still looking?
Check out the following courses related to Dog Grooming Diploma: