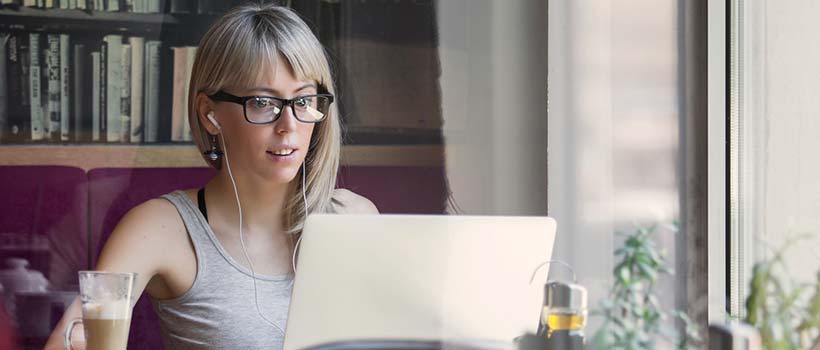 Week 1
Lesson 1- Jump-Start Your Career With LinkedIn
In this first lesson, you'll learn how LinkedIn can help you tap into the hidden job market by networking with people in your field. We'll discuss how LinkedIn compares to other social media outlets such as Facebook and Twitter, and how to best use this resource whether you've just recently graduated from college, you're employed in a full-time position, or you're seeking part-time work to re-enter the job market. By the end of this lesson, you'll be prepared to start defining your career goals, and you'll open your free basic account and have a look around the LinkedIn website!
Lesson 2- Your Dream Job . . . Ready, Set, Go!
What's the difference between a dream job and a fantasy job? It's important to be able to articulate what your dream job is and why this job is ideal for you. In this lesson, we'll discuss what it takes to achieve your dream job, and we'll walk through the process of mapping your career goals and dreams. You'll also learn how to use LinkedIn to identify target employers who match your passion and vision. Ready? Set? Go!
Week 2
Lesson 3- Your LinkedIn Makeover!
How does your LinkedIn profile market your skills 24/7? We'll discuss that in today's lesson. You'll learn a few tricks to using photos that make a difference and why that's important. And we'll also take a step-by-step guided tour of your profile page, building a LinkedIn profile that displays confidence and promotes a healthy image.
Lesson 4- Getting Noticed on LinkedIn
Today's lesson is all about getting noticed on LinkedIn. You'll learn about Applicant Tracking Systems (ATS) and keywords, and how to include these words in your profile content. You'll learn how to adjust some settings in your LinkedIn account panel to help increase visibility and control. And finally, we'll discuss how you can use LinkedIn recommendations to your advantage.
Week 3
Lesson 5- LinkedIn Groups—Your Key to Getting Anywhere!
In this lesson, we'll discuss LinkedIn Groups and why you should join them. You'll learn how to find the right group for your career development, and we'll also talk about group etiquette and the proper behavior when participating in a group. Finally, we'll explore how to connect with people in your group and why it's beneficial.
Lesson 6- Reaching Out to Your Connections
For some, meeting new people is fun and exciting; for others, nothing could be more terrifying. If you fall in the latter category, this lesson is for you. Today we'll explore the psychology of meeting people. You'll learn effective tips for introducing yourself to others and overcoming fears, and we'll also discuss how you can use LinkedIn to introduce yourself to industry connections!
Week 4
Lesson 7- Introducing Yourself via Email, Text Messaging, and Social Media
Wondering how and when to use your email, text messaging, or snail mail in your job search? With the advent of all these new technologies, we have many options for how we communicate with potential employers. In this lesson, we'll discuss these technologies and the most appropriate and effective uses for them in the business world!
Lesson 8- Researching the Job Market
There are many job opportunities out there, regardless of what you might hear on the news. As we've discussed throughout the course, the hidden job market is where you'll find most of these opportunities. So the real quest is in how to find the hidden job market. In this lesson, you'll learn how to use a number of resources to find the job you're looking for. We'll discuss little-known Web tools, how to use specific job sites, how to approach companies directly, and how LinkedIn can tie all of your research together.
Week 5
Lesson 9- Getting Out From Behind Your Computer
It's time to get out from behind your computer and make your introductions. But first, you'll want to get on the phone. In this lesson, we'll discuss a few powerful techniques for turning cold calls warm, and we'll talk about communication techniques for interviews—both on the phone and in person. You'll learn how to develop a list of questions that will prepare you for any type of interview, and you'll have a chance to practice as well!
Lesson 10- LinkedIn for the Creative Mind
If you're an artist of any type—whether a musician, writer, photographer, psychic, or inventor—you might be wondering how you can use LinkedIn to your benefit. How can you make LinkedIn work for you if you're not on a traditional career path? That's exactly what we'll cover in this lesson. We'll discuss how to distinguish between your product and service, how to identify your market, how to make your left and right brain work in tandem, and how to market yourself and connect with people who can help you on LinkedIn.
Week 6
Lesson 11- Continuing to Grow With LinkedIn
As we come into the home stretch of this course, we'll discuss a few ways you can continue to grow with LinkedIn. We'll look at LinkedIn Mobile, LinkedIn Resume Builder, and applying for jobs directly through LinkedIn. We'll also talk about allotting 10 minutes for LinkedIn each day and how to best use that time. By the end of this lesson, you'll have a thorough understanding of how to make LinkedIn work for you—so your interaction with the tool will be almost effortless, and your career network management seamless!
Lesson 12- <EM>A</EM> Is for Attitude
In our final lesson, we'll discuss the importance of attitude. You know attitude is important, of course, but you may not have the tools to change your attitude and stay positive during a job search. Today, we'll discuss how a positive attitude can make a difference in your job search, and we'll also look at a powerful technique for turning your attitude around. We'll wrap up by talking about some strategies for taking your LinkedIn profile offline and networking face-to-face with potential employers!