What's New in Microsoft Office 2010
What's it all about?
Get up to speed on the latest version of Microsoft Office 2010! In these lessons, you'll explore all the new features of Office as you work with Word documents, Excel spreadsheets, PowerPoint presentations, and Access databases.
As you master each program, you'll explore both the new 2010 features and those added in 2007. If you're still using Office 2003 or 2007, you'll learn how to transition smoothly to this newer version—and if you're already using Office 2010, you'll discover ways to work more quickly, efficiently, and confidently.
In Word, you'll learn all about the new 2010 File tab. After that, you'll see how to manage your documents in Backstage View and work with the new Picture SmartArt layouts. Then you'll find out how to make your documents more accessible to all users with the Accessibility Checker, and learn how to find anything in your documents quickly with the Navigation pane. Finally, you'll discover that working in a multicultural world is easier than ever with the new Mini Translator.

In Excel, you'll see what the File tab does and find out how to save your worksheet as a PDF file. Next, you'll learn how sparklines let you illustrate your data in a compact format, discover how slicers allow you to summarise data quickly, and delve into brand-new formatting options.
In PowerPoint, we'll look at the new File tab and then move on to SmartArt picture layouts and the new Picture background removal feature. In addition, you'll see how video styles can make your videos look spectacular and how the Transitions tab can make slide show transitions easy. You'll also master new animation effects, examine how to organize long presentations using sections, and learn how to create a video from any PowerPoint presentation.

In Access, you'll learn how to use the new data type parts to quickly add pre-made fields to a database, and explore application parts (which are like templates you can add to your databases). You'll see how Access 2010 lets you use themes in forms and reports, and how you can share your Access tables, forms, and reports by publishing to other formats and exporting objects to the Web.
Before you know it, you'll be using each MS Office 2010 program with ease, accomplishing your work faster, and creating documents that look better than ever!
Courses are delivered to you through expertly executed lessons, online instruction and interaction with like-minded students. Our courses are designed to deliver all of the benefits of studying in a classroom whilst giving you the flexibility to study at a time and place to suit your needs. You can access your classroom 24/7 from any device with an internet connection.
New sessions of each course start monthly and last for six weeks. You'll gain access to two lessons a week (for a total of 12 lessons) helping you pace your learning. There are no set times for you to study, you can log in and out within the 8 week access period at any time and complete the course at your own pace. Your expert tutor will guide and facilitate your course, answering any questions you have and providing guidance and feedback. You'll complete comprehensive lessons, quizzes and assignments before submitting your final exam at the end of the course to achieve your certificate.
Session start dates are listed below. Has the start date already passed? Don't worry, you can join a class up to 2 weeks after the start date!
Start Dates:
18 May
15 June
13 July
17 August
Who's the instructor?
Barbara Clemens has been a software product manager, editor, writer, and teacher since 1984. She has worked with educational publishers Addison-Wesley and Course Technology to create software textbooks for colleges and universities. She has edited... Read more
Read Barbara Clemens's Profile
What's involved?
Lesson 1- Getting Started With Word 2010
Lesson 2- Formatting a Word Document
Lesson 3- Polish Your Document With Special Word Features
Lesson 4- A Look at Excel 2010
Lesson 5- Meet Excel Formatting Tools
Lesson 6- Organize Your Data With Excel Tables
Lesson 7- Get to Know PowerPoint Essentials
Lesson 8- Formatting Presentation Text, Graphics, and Video
Lesson 9- Finalizing Your PowerPoint Slide Show
Lesson 10- Meet Access 2010
Lesson 11- Learn Access Formatting
Lesson 12- Discover the Special Features of Access

What do others think?
'I enjoyed learning the four applications in Microsoft 2010. What you covered in each application was very useful and easy to understand. Thank you for all of the useful information you offered for each application.'
The Learning Environment
From the moment that you enrol in What's New in Microsoft Office 2010 you will become an integral part of our learning community. You will experience the perks of classroom studies such as chatting by the water cooler or sharing your opinion on a specific task, all in your own home.
Tutor support during your learning is flawless, friendly and encouraging. You will learn from your professional tutor who is not only knowledgeable and highly skilled but is a passionate industry expert. Our ethos is that if you succeed, we succeed. As with any studies, learning can be intense, yet you will soon realise that your hard work and commitment will be both personally and professionally rewarding.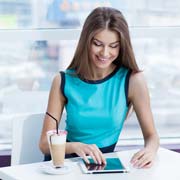 Why Choose Vibe Learning?
Learn Your Way
We understand that everyone works at their own pace and no two students are the same. That's why when you study with Vibe Learning we provide you with all the study guidelines, tools and support you need but leave you to set the pace. You are free to complete your assessments when and where you want.
We don't break the bank
With Vibe Learning we believe that education should be accessible to anyone who wants to learn. That's why we offer some of the most competitive prices in the industry. Investing in your future is a smart choice and doesn't have to break the bank. Whether you choose our money saving upfront prices or flexible payment plans, studying is accessible to you.
You'll get the personal attention you deserve
We are real people, providing real support every step of the way. When you study with Vibe Learning, you'll benefit from learning from professional, knowledgeable and most of all passionate industry experts.
Reap the rewards sooner rather than later
We offer a range of options from short 6 week courses through to extensive 12 month courses. Whatever your personal or professional goals, studying online with Vibe Learning provides a rewarding life changing experience which is well within your reach.
Learn real life skills
We don't profess to know everything about every industry. That's why, when we write a course we work with industry experts who do know everything! Before delivering a course we make sure that the following boxes have big green ticks in them;
The course is industry Current
The course is Relevant to our students
The course is Engaging and delivers outcomes
Still looking?
Check out the following courses related to What's New in Microsoft Office 2010: