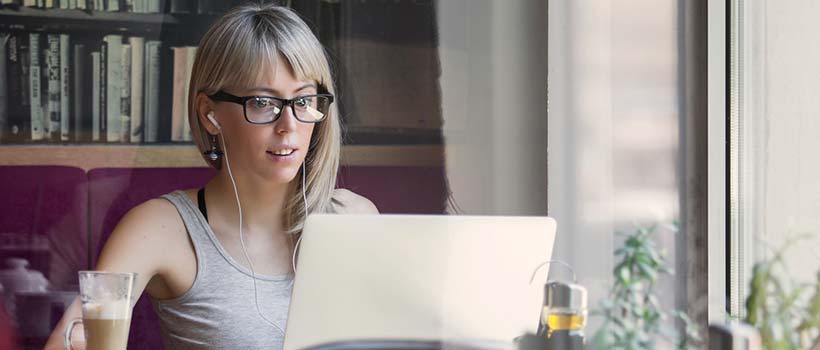 Week 1
Lesson 1- Writing: Your Dynamic New Tool
Welcome to Lesson 1, where you'll learn important concepts to help you write better today! You'll learn a strategy that will free up every bit of your existing writing skills and help you gain confidence when you write. Practice begins now with a new technique that will help you get your thoughts out onto the page so you can work with them. It's a great way to start on your goal of becoming a confident, accomplished writer. Whether you need to write on the job or you're eager to write for publication, this lesson will help!
Lesson 2- Words: Picking the Right One
Prepare yourself for some major upgrades on your ability to choose effective words! In this lesson you'll learn to recognize what kinds of word choices work and why. You'll come away with an understanding about word choices that cause your readers to feel confused or uninterested. You'll have the pleasure of discovering how to find the word you want and also how to goof around with words so you enjoy writing more. Finally, you'll practice, practice, practice. It's fun, so feel free to dive in and splash around!
Week 2
Lesson 3- Spelling: Tips and Practice
It's time for spelling practice. Not only will you review problem words, but you'll get acquainted with 10 helpful rules and five helpful tips to make you a better speller so you can spell better from now on. You'll identify your own particular spelling demons and learn a strategy to cope with them once and for all. This lesson is filled with the kinds of resources and spelling practice you've been looking for.
Lesson 4- Usage: Which Word Goes Where
Here's your chance to get acquainted with common word usage difficulties and master them. You're about to learn to pick the right word at the right time and put it in the right place in your sentence. You'll practice choosing between similar sounding words that have different meanings. You'll get helpful explanations—at last!—about tricky usages that may trip you up daily. Feel free to delve into an information-packed lesson that will add to your knowledge of correct word usage.
Week 3
Lesson 5- Sentences: Writing Them Effectively
Your writing ability is building after the first four lessons! In Lesson 5 you'll integrate all you've learned so far—how how to capture your thoughts, choose effective words, spell correctly, and master word usage—by mastering techniques that will help you write effective sentences. Here you'll practice constructing sentences that have energy and precision by learning four simple tips, deciding which words to take out, and communicating your ideas logically.
Lesson 6- Ending Punctuation:  When, Where, and Why
Whisk through a handy review of the three main punctuation marks used to end sentences: the period, the question mark, and the exclamation point. But that's not all. You'll benefit from practicing how to identify and fix run-on sentences, sentence fragments, and the overuse of dashes and ellipses. Round out your exploration with the challenge of combining quotation marks with the ending marks. You'll get a fine update on what works and what doesn't with this first of three full lessons on punctuation.
Week 4
Lesson 7- Commas: Mastery at Last!
Commas! Yes, you can master their use. Lesson 7 is designed to give you confidence in your comma placement. You'll learn how to use commas to create energy and precision in your writing. Instead of memorizing an intimidating list of rules, you'll learn by listening, clarifying, and practicing. You'll realize that you're in charge of your commas rather than being a passive victim. You'll get answers to all your lingering doubts about using commas here.
Lesson 8- Semicolons, Colons, and All the Rest: A Quick Review
It's likely been a long time since your school days, and your knowledge of the correct use of all the punctuation marks may be a bit vague now. Lesson 8 to the rescue! The emphasis here will be on how to use punctuation marks like semicolons, colons, dashes, parentheses, ellipses, apostrophes, quotation marks, italics, and hyphens. You'll acquire a new understanding of the way these marks help you. You'll gain this understanding by discovering, through practice, how to punctuate for clarity and how to help your readers hear the way you want your words to sound.
Week 5
Lesson 9- Paragraphs: How They Help You Communicate
You're building your knowledge brick by brick, and now it's time to tackle the most powerful organizing tool of all writing—the paragraph. Here you'll find tips on how to organize a paragraph, where to break one paragraph and start another, and how to sequence paragraphs for optimum understanding. As always, you'll get to practice these skills as you go, solidifying your knowledge and gaining new confidence. Dive in!
Lesson 10- Formatting: Tools and Tips to Help Your Content Shine
Now it's time to find out how to put all your good writing into the right format so you can communicate with power and precision. Formatting appeals to the eye of your readers and draws them into your content. It's a powerful tool and one that involves some creative choices on your part. Get ready to learn about your choices for overall form, as well as how to use basic and specific formatting tools to make your writing highly readable.
Week 6
Lesson 11- Writing for Electronic Media: Quirks and Characteristics
Learn how to write effectively in today's electronic world. Explore how the techniques of writing various types of electronic media such as e-mail, instant messages, and text messages, for example, differ from the techniques used to prepare messages that will be read on paper. It's a new world, and new rules are necessary to help you communicate well. This lesson will help you discover what works and what doesn't in these exciting and evolving media. You'll gain a new understanding of how to write powerful e-mail, since it's the most common of all electronic message systems.
Lesson 12- Putting It All Together: Writing Well!
Time to wrap up all you've learned! Lesson 12 will help you practice using your new skills, working from freewriting to a finished document. You'll practice how to use both your creative and your critical skills while writing. You'll find out what kind of attitude will help you use your new skills and what good habits will help you continue to improve each time you write. You'll focus on revision, work with a revision checklist, and review good tips on proofreading. You'll put together all you've learned so your writing continues to improve from this point forward.