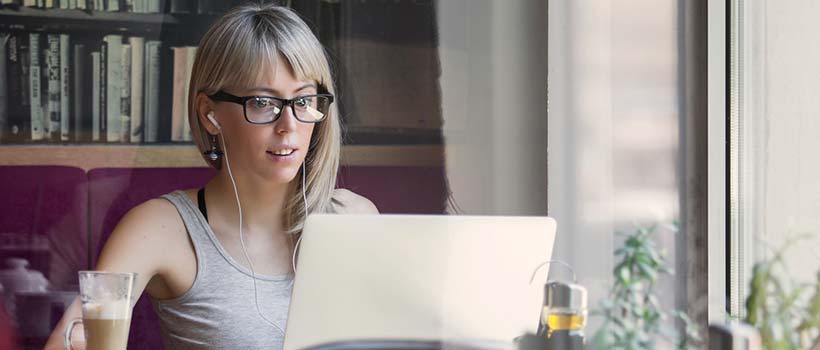 Week 1
Lesson 1- The Functions of Fat
Have you always suspected the only function of fat was to attach itself to your stomach, hips, or thighs? In our first lesson, we'll uncover the functions of fat in cooking and discuss easy, lower-fat ways to replace these functions. We'll begin to identify high-fat ingredients in recipes, too. You'll use your new skills to prepare a quick and easy Chicken a la King that's lower in fat but even more flavorful than the original recipe! Then you'll try your hand at a luscious and lowered-fat recipe for Lasagna Mexicana.
Lesson 2- 'Tis the Seasoning
In Lesson 1, you learned that two of the functions of fat are carrying flavor and adding "mouthfeel." Seasonings are a fat-free way to improve flavor and mouthfeel. We'll explore the functions of seasonings in lowered-fat cooking, and we'll discuss several of the most commonly used seasonings and their uses. You'll also learn about flavor profiling, and then use these terrific techniques to create three easy, flavorful lowered-fat recipes: Mexican Shepherd's Pie, Greek Pizza, and New World Pasta y Fagioli.
Week 2
Lesson 3- Talking Sauce
Many recipes are based on sauces, and many of them tend to be high in fat. In today's lesson, we'll look at the functions of fat in sauces. We'll discuss several ways to make easy and delicious lowered-fat sauces. You'll use this knowledge to prepare a classic Lowered-Fat Macaroni and Cheese, and an easy, elegant Fettuccine Tofredo with Chicken and Broccoli, both of which are deliciously smooth and rich. You'll learn how to use canned condensed soups to make easy low-fat sauces when you make Quick and Easy Turkey Tetrazzini. And you'll discover the differences between opaque and glossy sauces as you prepare my quick and easy recipe for Sweet and Sour Chicken.
Lesson 4- Using Add-In Ingredients
This lesson is a student favorite! Today we'll define add-in ingredients, and you'll discover how to incorporate them into delicious lowered-fat recipes. Armed with this knowledge, you'll prepare a kid-friendly Spaghetti Pie that adults will love, too! If you enjoy Asian cuisine, you'll be delighted with my 15-minute recipe for Spicy Peanut Chicken. You don't have even 15 minutes to make dinner? After you apply your knowledge of seasoning, flavor profiling, and add-in ingredients, no one will believe you made Very Veggie Soup using canned and frozen foods. Last but not least, I'll share with you the alterations I made to a typical restaurant-style fried rice recipe to create an unforgettably delicious "Fried" Rice.
Week 3
Lesson 5- Making Meals with Meat and Poultry
Have you sworn off red meat because it's too high in fat or it's too difficult to prepare tender and flavorful cuts of lower-fat meats? Are you sick to death of the same old recipes for chicken? If you answered yes to either question, you'll love this lesson! You'll uncover many tips and tricks for preparing tender and flavorful meals based on leaner meats when you prepare Ground Beef Stroganoff, Pan-Broiled London Broil, and Sweet and Sour Meatballs. We'll revisit flavor profiling as we explore rubs and marinades, two great ways to enliven plain old poultry. To showcase these skills, you'll prepare Cinnamon Chicken. And finally, you'll discover how to convert a time-consuming recipe for Chicken Cordon Bleu into a quicker, easier, and lower-fat casserole recipe.
Lesson 6- Making Meals with Fish and Shellfish
Seafood offers so many health benefits that several health organizations recommend eating it at least twice a week. Unfortunately, many people avoid fish and shellfish because they aren't familiar with how to prepare it, or they're not excited about filling up the kitchen with that fishy aroma. Today we'll discuss how to choose seafood, and we'll prepare a bounty of fish and shellfish-based meals that won't leave your house smelling funny, including Grilled Ginger-Lime Salmon with Sauce, Drunken Cod, Poached Asian Salmon, Fish Puttanesca, Thai Shrimp, "Crab" Salad, Quick Crab Bisque, and Asian Tangerine Scallops.
Week 4
Lesson 7- Marvelous Meatless Meals
Are you suspicious of soybeans? Any doubts you may have will be dispelled when you taste Marinated Three-Bean Salad and Farmer Chili. Are you baffled by tofu? You'll discover how easy it is to use it to replace high-fat ingredients like cream and whole eggs when we prepare Creamy Butternut Squash Soup, Pasta Carbonara, Spicy Peanut Tofu, Tofu Pumpkin Custard, and Tofu Guacamole. As easy and delicious as these recipes are, what most students enjoy about this lesson is sneaking healthful soybeans and tofu into their family's meals. Your diners will never be the wiser, either!
Lesson 8- Thinking Like a Dietitian in the Kitchen
Are you tired of never having an answer to the question, "What's for dinner?" If you shouted "Yes!" then this your lesson! Even if you usually have dinner under control, you'll be delighted to learn how to develop and use a cycle menu to save you time, reduce food waste, and help encourage diner acceptance. To prove these points, we'll prepare Bean and Basil Salad, Tomato-Basil Meat Sauce, Chicken Curry, Shrimp Cashew Salad, and Greek Skillet. We'll also discuss how to develop a grocery list that works for you. We'll finish up by taking a look at shopping for groceries, including the pros and cons of online and warehouse shopping.
Week 5
Lesson 9- Casseroles, Slow Cooker Cookery, and Oven-Fried Foods
Break out your slow cooker and discover how delicious and easy lowered-fat cooking can be! We'll prepare an exotic but oh so easy recipe for African Chicken. You'll learn how to convert the Chicken à la King recipe we prepared back in Lesson 1 to a slow cooker recipe. We'll uncover the secrets of lowered-fat casserole cookery as we prepare a yummy Chicken Enchilada Casserole. And if you've given up deep-frying because it's too high in fat, you'll love my recipes for Oven-Fried Chicken, Oven Fries, and Oven Onion Rings. You'll be licking your fingers because these recipes taste so good—not because they're greasy!
Lesson 10- Cupboard and Freezer Meals
If you're like me and you prefer to cook rather than clean, you'll love the tips and tricks we'll discuss in this lesson! We'll examine how to organize and take control of the pantry, kitchen, refrigerator, and freezer. I'll share with you my kitchen cleanup tips, too. Once we've got things organized and tidy, I'll share what I call cupboard meals. I fall back on these family-favorite recipes when I'm pressed for time—Chicken Florentine Pasta, Speedy Lasagna, and Quick Chicken Risotto. We'll revisit flavor profiling and discuss another way it can benefit you when we prepare Caribbean Chicken Pizza. And, we'll use the slow cooker to prepare Mexican Pork, a simple but delicious twofer recipe.
Week 6
Lesson 11- Surviving Summer Cooking
In this lesson, you'll learn how to keep cool as a cucumber on the hottest dog day of summer as you prepare Summer Seviche, Gazpacho, and Chicken Caesar Pasta Salad. You'll find out how to use your small kitchen appliances to make Slow Cooker Iberian Meat Loaf and Tomato-Olive Bread. And you'll beat the heat while grilling up Grilled Margherite Pizza, Grilled Veggie Medley, and Grilled Fruit Cups. These summer-perfect recipes are so scrumptious, though, you'll want to enjoy them year-round!
Lesson 12- Putting It All Together
Bring your sweet tooth to this lesson! You'll have several opportunities to wow your taste buds, as you'll prepare Very Cherry Cake, Tofu Key Lime Pie, and Peanut Butter Cup pie. You'll learn how to choose and make tasty, colorful lowered-fat side dishes, including Fruit Salad, Asian Coleslaw, and Green Beans and Bells, as well as a variety of garnishes. We'll talk about one last hurry-up technique—how to break the rule of mise en place—in this last lesson. To close out the course, we'll discuss the basics of evaluating nutrition research.