Customer Service Management
What's it all about?
As a manager, you probably interact with customer service personnel every day. But are you empowering your organisation with quality customer service suggestions? In this six-week online course, you'll discover the dynamite methods for bringing out the best in your team, measuring customer service, and learning what you need to do to anticipate the needs of your reps and your customers. As an added bonus, you'll unlock the power of leading by example and setting new trends for customer service in your growing business.

You may already understand that top-notch customer service begins with knowing your customers and their needs, but do you know how to evaluate those customers, or better yet, what to do with the data once you have it? We'll take a look at that, as well as identify how your customer service stacks up right now, and how you can build on even the sharpest of service policies. Plus, learn how to communicate, resolve complaints, and foster winning traits in each of your reps, all in six easy weeks.
Courses are delivered to you through expertly executed lessons, online instruction and interaction with like-minded students. Our courses are designed to deliver all of the benefits of studying in a classroom whilst giving you the flexibility to study at a time and place to suit your needs. You can access your classroom 24/7 from any device with an internet connection.
New sessions of each course start monthly and last for six weeks. You'll gain access to two lessons a week (for a total of 12 lessons) helping you pace your learning. There are no set times for you to study, you can log in and out within the 8 week access period at any time and complete the course at your own pace. Your expert tutor will guide and facilitate your course, answering any questions you have and providing guidance and feedback. You'll complete comprehensive lessons, quizzes and assignments before submitting your final exam at the end of the course to achieve your certificate.
Session start dates are listed below. Has the start date already passed? Don't worry, you can join a class up to 2 weeks after the start date!
Start Dates:
18 May
15 June
13 July
17 August
Who's the instructor?

Tony Swaim has helped many clients, colleagues, and students reach their professional and personal goals. He has been an online instructor since 1998 and has taught at colleges and universities across the United States since 1981. His focus areas ... Read more
Read Tony Swaim's Profile
What's involved?
Lesson 1- Winning Customer Service
Lesson 2- Customers Revealed
Lesson 3- Customer Expectations
Lesson 4- Customer Service: Why Do It?
Lesson 5- The Decline (and Revival) of Customer Service
Lesson 6- Moving Forward With The Four P's
Lesson 7- Traits of Outstanding Customer Reps
Lesson 8- Measuring Customer Service
Lesson 9- Customer Service Communication
Lesson 10- Helping Upset Customers
Lesson 11- Motivating Your Team Part I
Lesson 12- Motivating Your Team Part II

What do others think?
'I enjoyed the Managing Customer Service course. It was well written and easy to follow. Tony Swaim did an excellent job in keeping the material informative, yet interesting and fun. I found the course useful as a refresher and also gained insight into current trends and updates in the customer service field. The links provided with each lesson gave additional information that was helpful. I would highly recommend this course!'
The Learning Environment
From the moment that you enrol in Customer Service Management you will become an integral part of our learning community. You will experience the perks of classroom studies such as chatting by the water cooler or sharing your opinion on a specific task, all in your own home.
Tutor support during your learning is flawless, friendly and encouraging. You will learn from your professional tutor who is not only knowledgeable and highly skilled but is a passionate industry expert. Our ethos is that if you succeed, we succeed. As with any studies, learning can be intense, yet you will soon realise that your hard work and commitment will be both personally and professionally rewarding.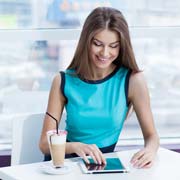 Why Choose Vibe Learning?
Learn Your Way
We understand that everyone works at their own pace and no two students are the same. That's why when you study with Vibe Learning we provide you with all the study guidelines, tools and support you need but leave you to set the pace. You are free to complete your assessments when and where you want.
We don't break the bank
With Vibe Learning we believe that education should be accessible to anyone who wants to learn. That's why we offer some of the most competitive prices in the industry. Investing in your future is a smart choice and doesn't have to break the bank. Whether you choose our money saving upfront prices or flexible payment plans, studying is accessible to you.
You'll get the personal attention you deserve
We are real people, providing real support every step of the way. When you study with Vibe Learning, you'll benefit from learning from professional, knowledgeable and most of all passionate industry experts.
Reap the rewards sooner rather than later
We offer a range of options from short 6 week courses through to extensive 12 month courses. Whatever your personal or professional goals, studying online with Vibe Learning provides a rewarding life changing experience which is well within your reach.
Learn real life skills
We don't profess to know everything about every industry. That's why, when we write a course we work with industry experts who do know everything! Before delivering a course we make sure that the following boxes have big green ticks in them;
The course is industry Current
The course is Relevant to our students
The course is Engaging and delivers outcomes
Still looking?
Check out the following courses related to Customer Service Management: