Learn how to use exciting new features in CSS3 and HTML5 to design animated interactive websites for desktops, laptops, and mobile devices.
What's it all about?
You've heard the buzz about CSS3 and HTML5? These latest versions of HTML and CSS have redefined how Web pages are created. So if you're going to design Web pages, you need to know how to work with CSS3 and HTML5.
This course will teach you how to take advantage of HTML5 "semantic" tags that make page design far more intuitive, faster, and easier compared to older versions of HTML. And you'll learn to use HTML5 to create basic mobile pages and apps.
In this class, you'll learn to use HTML5 to provide video that works in any environment. HTML5 makes it possible to build inviting forms that test user data without back-end coding. It also allows designers to include friendly tools like calendars, calculators, and color palettes to encourage accurate user input. You'll leave this course with the skills to create all those elements.
And you'll learn to wield new CSS3 features essential for fast-loading, exciting, interactive websites, especially mobile sites. You'll create complex gradient blend backgrounds for pages and page elements, without using image files. And you'll learn to use jQuery Mobile to create app-like mobile Web pages and themes— complex sets of styles for mobile sites.

In short, you'll leave this course with valuable skills essential to creating modern websites.
Courses are delivered to you through expertly executed lessons, online instruction and interaction with like-minded students. Our courses are designed to deliver all of the benefits of studying in a classroom whilst giving you the flexibility to study at a time and place to suit your needs. You can access your classroom 24/7 from any device with an internet connection.
New sessions of each course start monthly and last for six weeks. You'll gain access to two lessons a week (for a total of 12 lessons) helping you pace your learning. There are no set times for you to study, you can log in and out within the 8 week access period at any time and complete the course at your own pace. Your expert tutor will guide and facilitate your course, answering any questions you have and providing guidance and feedback. You'll complete comprehensive lessons, quizzes and assignments before submitting your final exam at the end of the course to achieve your certificate.
Session start dates are listed below. Has the start date already passed? Don't worry, you can join a class up to 2 weeks after the start date!
Start Dates:
18 May
15 June
13 July
17 August
Who's the instructor?

David Karlins is the author of more than a dozen books on Web design that have sold over a million copies worldwide, including HTML5 for CSS3 for Dummies. His articles have appeared in publications ranging from Macworld to Busin... Read more
Read David Karlins's Profile
What's involved?
Lesson 1- Elements of an Advanced Website
Lesson 2- Building a Basic Web Page With HTML5 and CSS3
Lesson 3- Testing and Uploading Your Site
Lesson 4- Improving Your Site Design With Gradient Backgrounds and Custom Fonts
Lesson 5- Embedding Native Video
Lesson 6- Building Forms
Lesson 7- Enhancing Forms and Collecting Form Data
Lesson 8- Structuring Pages With HTML5 Semantic Markup
Lesson 9- Advanced Responsive Design
Lesson 10- Building Slide Shows With jQuery, HTML, and CSS
Lesson 11- Creating Web Apps With jQuery Mobile
Lesson 12- Customizing jQuery Mobile Themes

What do others think?
'This was a great course and the instructor was very helpful and knowledgeable. I highly recommend it to anyone who desires to extend their web design capabilities.'
The Learning Environment
From the moment that you enrol in CSS3 and HTML5 Advanced you will become an integral part of our learning community. You will experience the perks of classroom studies such as chatting by the water cooler or sharing your opinion on a specific task, all in your own home.
Tutor support during your learning is flawless, friendly and encouraging. You will learn from your professional tutor who is not only knowledgeable and highly skilled but is a passionate industry expert. Our ethos is that if you succeed, we succeed. As with any studies, learning can be intense, yet you will soon realise that your hard work and commitment will be both personally and professionally rewarding.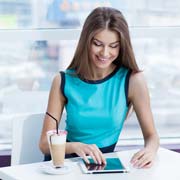 Why Choose Vibe Learning?
Learn Your Way
We understand that everyone works at their own pace and no two students are the same. That's why when you study with Vibe Learning we provide you with all the study guidelines, tools and support you need but leave you to set the pace. You are free to complete your assessments when and where you want.
We don't break the bank
With Vibe Learning we believe that education should be accessible to anyone who wants to learn. That's why we offer some of the most competitive prices in the industry. Investing in your future is a smart choice and doesn't have to break the bank. Whether you choose our money saving upfront prices or flexible payment plans, studying is accessible to you.
You'll get the personal attention you deserve
We are real people, providing real support every step of the way. When you study with Vibe Learning, you'll benefit from learning from professional, knowledgeable and most of all passionate industry experts.
Reap the rewards sooner rather than later
We offer a range of options from short 6 week courses through to extensive 12 month courses. Whatever your personal or professional goals, studying online with Vibe Learning provides a rewarding life changing experience which is well within your reach.
Learn real life skills
We don't profess to know everything about every industry. That's why, when we write a course we work with industry experts who do know everything! Before delivering a course we make sure that the following boxes have big green ticks in them;
The course is industry Current
The course is Relevant to our students
The course is Engaging and delivers outcomes
Still looking?
Check out the following courses related to CSS3 and HTML5 Advanced: