Become a Physiotherapy Assistant
What's it all about?
Prepare for a rewarding career as a valued member of the physical therapy team while learning all about the human body, specific disorders, and the way physical therapists treat these disorders.
We'll begin by exploring the history of physical therapy and the relationships between physical therapists, physical therapist assistants, and physical therapy aides. You'll get training on how to communicate effectively with other health care professionals and patients. You'll also come to understand the medical documentation that physical therapists use and principles of ethics and law that affect the PT aide.
Physical therapists often use words and terms that may be unfamiliar to you, so we'll devote some time to learning much of the language of PT. We'll then spend two lessons studying the body's 11 organ systems. You'll learn the names of the organs in each system, their main functions, and some common disorders.
Health care professionals must take extra care to avoid the spread of infection, so we'll go over that important subject. Along with infection control, you'll learn proper body mechanics and how to safely move patients. We'll also cover the normal gait cycle, and you'll learn how to help patients walk with assistive devices like walkers, crutches, and canes.
Physical therapists use physical agents like heat, cold, ultrasound, and electricity to treat many of their patients, so we'll explore these agents. You'll learn when PTs use them and important precautions. We'll move on to a discussion of exercise, and we'll spend a lesson studying the principles of strengthening, aerobic, and range-of-motion exercises.
We'll close with a study of balance and coordination disorders. You'll learn about the vestibular system—an important mechanism that helps you keep your balance. We'll also talk about treating children with developmental coordination disorder and developmental delays.
By the time you finish this six-week course, you'll have gained valuable knowledge and be well on your way to becoming an important member of the physical therapy team!
Courses are delivered to you through expertly executed lessons, online instruction and interaction with like-minded students. Our courses are designed to deliver all of the benefits of studying in a classroom whilst giving you the flexibility to study at a time and place to suit your needs. You can access your classroom 24/7 from any device with an internet connection.
New sessions of each course start monthly and last for six weeks. You'll gain access to two lessons a week (for a total of 12 lessons) helping you pace your learning. There are no set times for you to study, you can log in and out within the 8 week access period at any time and complete the course at your own pace. Your expert tutor will guide and facilitate your course, answering any questions you have and providing guidance and feedback. You'll complete comprehensive lessons, quizzes and assignments before submitting your final exam at the end of the course to achieve your certificate.
Session start dates are listed below. Has the start date already passed? Don't worry, you can join a class up to 2 weeks after the start date!
Start Dates:
15 June
13 July
17 August
14 September
Who's the instructor?

Holly Trimble has a bachelor's degree in physical therapy from the University of Colorado and a master's degree in pediatric physical therapy from Boston University. She completed an additional 15 credit hours in education at the doctoral level. S... Read more
Read Holly Trimble's Profile
What's involved?
Lesson 1- Introduction to Physical Therapy
Lesson 2- Communication for the Physical Therapy Aide
Lesson 3- Ethics and Law for the PT Aide
Lesson 4- The Language of Physical Therapy
Lesson 5- Anatomy and Physiology: Part 1
Lesson 6- Anatomy and Physiology: Part 2
Lesson 7- Safety for the Physical Therapy Aide: Part 1
Lesson 8- Safety for the Physical Therapy Aide: Part 2
Lesson 9- Helping Patients Walk
Lesson 10- Using Physical Agents
Lesson 11- Use of Exercise: Part 1
Lesson 12- Use of Exercise: Part 2

What do others think?
'This instructor made this class very interesting for me.  She is incredibly knowledgeable, not only in her field of physical therapy but in teaching as well.  She conveyed the material in a very understandable way.  In many instances, I would tell my husband about the many things I learned throughout the chapters.  For someone who is considering a career change, this was the perfect course to gain insight.  I loved this course and I thought the teacher was exceptional.  I plan to take another course that she teaches. Also, I really liked how the quizzes and assignments were set up twice per week. Great format!'
The Learning Environment
From the moment that you enrol in Become a Physiotherapy Assistant you will become an integral part of our learning community. You will experience the perks of classroom studies such as chatting by the water cooler or sharing your opinion on a specific task, all in your own home.
Tutor support during your learning is flawless, friendly and encouraging. You will learn from your professional tutor who is not only knowledgeable and highly skilled but is a passionate industry expert. Our ethos is that if you succeed, we succeed. As with any studies, learning can be intense, yet you will soon realise that your hard work and commitment will be both personally and professionally rewarding.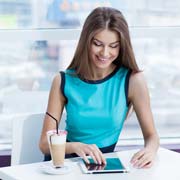 Why Choose Vibe Learning?
Learn Your Way
We understand that everyone works at their own pace and no two students are the same. That's why when you study with Vibe Learning we provide you with all the study guidelines, tools and support you need but leave you to set the pace. You are free to complete your assessments when and where you want.
We don't break the bank
With Vibe Learning we believe that education should be accessible to anyone who wants to learn. That's why we offer some of the most competitive prices in the industry. Investing in your future is a smart choice and doesn't have to break the bank. Whether you choose our money saving upfront prices or flexible payment plans, studying is accessible to you.
You'll get the personal attention you deserve
We are real people, providing real support every step of the way. When you study with Vibe Learning, you'll benefit from learning from professional, knowledgeable and most of all passionate industry experts.
Reap the rewards sooner rather than later
We offer a range of options from short 6 week courses through to extensive 12 month courses. Whatever your personal or professional goals, studying online with Vibe Learning provides a rewarding life changing experience which is well within your reach.
Learn real life skills
We don't profess to know everything about every industry. That's why, when we write a course we work with industry experts who do know everything! Before delivering a course we make sure that the following boxes have big green ticks in them;
The course is industry Current
The course is Relevant to our students
The course is Engaging and delivers outcomes
Still looking?
Check out the following courses related to Become a Physiotherapy Assistant: