Learn how to use Adobe InDesign CC software to create professional-quality letterhead, brochures, forms, eBooks, business materials and more.
What's it all about?
Have you ever seen a terrific-looking brochure or newsletter and wondered how it was made? Chances are the designer used Adobe InDesign CC, the industry-standard desktop publishing software now available through the Creative Cloud. The course is applicable to any version of InDesign CS4 or newer.
In each lesson, we'll cover an important aspect of InDesign CC as you prepare a range of print and online products for a fictional company, Natalie's Nautical Emporium. You'll get dozens of files to work with, including a partially completed InDesign document used to start each lesson. Then you'll use the downloaded graphics, images, fonts, and other content to complete the project. And to check your work or troubleshoot any problems you encounter, you'll always get a copy of the finished InDesign project file.
Lesson by lesson, you'll discover how the program features relate to producing actual usable documents as we explore the best ways to create different types of material, how to reuse items such as colors and artwork, and how to produce publications for different page sizes and devices. You'll come away knowing how to use this popular page layout software to design and create professional-quality letterhead, business cards, brochures, forms, interactive PDF files, an eBook, and more. You don't have to be a designer or an artist to produce professional quality documents!
Courses are delivered to you through expertly executed lessons, online instruction and interaction with like-minded students. Our courses are designed to deliver all of the benefits of studying in a classroom whilst giving you the flexibility to study at a time and place to suit your needs. You can access your classroom 24/7 from any device with an internet connection.
New sessions of each course start monthly and last for six weeks. You'll gain access to two lessons a week (for a total of 12 lessons) helping you pace your learning. There are no set times for you to study, you can log in and out within the 8 week access period at any time and complete the course at your own pace. Your expert tutor will guide and facilitate your course, answering any questions you have and providing guidance and feedback. You'll complete comprehensive lessons, quizzes and assignments before submitting your final exam at the end of the course to achieve your certificate.
Session start dates are listed below. Has the start date already passed? Don't worry, you can join a class up to 2 weeks after the start date!
Start Dates:
17 November
15 December
12 January
09 February
What's involved?
Lesson 1- Making Your Way Around InDesign CC
Lesson 2- Setting Up a New Document
Lesson 3- Organizing Objects on a Layout
Lesson 4- Setting Up a Multipage Document
Lesson 5- Adding, Editing, and Threading Text
Lesson 6- Importing Graphics and Images
Lesson 7- Drawing and Working With Shapes
Lesson 8- Managing and Applying Color
Lesson 9- Designing Tables and Creating Forms
Lesson 10- Storing Text and Color Information
Lesson 11- Creating and Distributing a Complex Document
Lesson 12- Working With Color Separations, Special Layouts, and E-books
The Learning Environment
From the moment that you enrol in InDesign CC Fundamentals you will become an integral part of our learning community. You will experience the perks of classroom studies such as chatting by the water cooler or sharing your opinion on a specific task, all in your own home.
Tutor support during your learning is flawless, friendly and encouraging. You will learn from your professional tutor who is not only knowledgeable and highly skilled but is a passionate industry expert. Our ethos is that if you succeed, we succeed. As with any studies, learning can be intense, yet you will soon realise that your hard work and commitment will be both personally and professionally rewarding.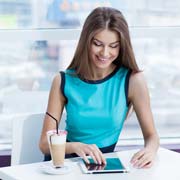 Why Choose Vibe Learning?
Learn Your Way
We understand that everyone works at their own pace and no two students are the same. That's why when you study with Vibe Learning we provide you with all the study guidelines, tools and support you need but leave you to set the pace. You are free to complete your assessments when and where you want.
We don't break the bank
With Vibe Learning we believe that education should be accessible to anyone who wants to learn. That's why we offer some of the most competitive prices in the industry. Investing in your future is a smart choice and doesn't have to break the bank. Whether you choose our money saving upfront prices or flexible payment plans, studying is accessible to you.
You'll get the personal attention you deserve
We are real people, providing real support every step of the way. When you study with Vibe Learning, you'll benefit from learning from professional, knowledgeable and most of all passionate industry experts.
Reap the rewards sooner rather than later
We offer a range of options from short 6 week courses through to extensive 12 month courses. Whatever your personal or professional goals, studying online with Vibe Learning provides a rewarding life changing experience which is well within your reach.
Learn real life skills
We don't profess to know everything about every industry. That's why, when we write a course we work with industry experts who do know everything! Before delivering a course we make sure that the following boxes have big green ticks in them;
The course is industry Current
The course is Relevant to our students
The course is Engaging and delivers outcomes
Still looking?
Check out the following courses related to InDesign CC Fundamentals: