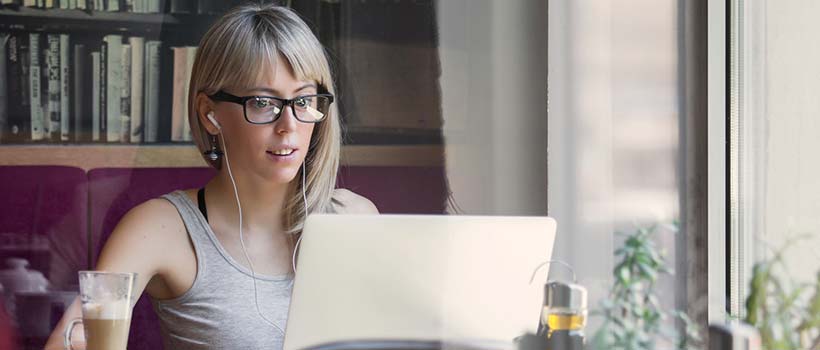 Week 1
Lesson 1- Video Editing Basics
In this first lesson, you'll get acquainted with the basic concepts and workflows of video editing with Final Cut Pro X. You'll explore the FCPX interface, using actual footage you import into your first project. We'll talk about how to review your footage, and you'll practice by adding keywords and markers to your clips to make them easy to identify. By the end of the lesson, you'll lay the foundation for your Editor's Reel, the business card of the professional video editor!
Lesson 2- File Management, Troubleshooting, and Projects
Today you'll get to know some of the challenges of working with digital video. We'll explore techniques for managing your files in FCPX, and we'll talk about how different kinds of video compression may affect the way you work and your best options for optimizing your media. We'll also look at some basic troubleshooting techniques that every editor should know. In the final part of the lesson, you'll make selections from your clips and edit them into your first project!
Week 2
Lesson 3- Talking the Talk: Editing a Dialogue Scene
This lesson is all about dialogue! You'll edit a dialogue scene today—evaluating your footage for technical quality and comparing different takes and making decisions about which are the best to use. We'll also walk through some techniques that will help you to quickly produce a rough cut. Finally, to refine your edit into an effective fine cut, you'll use some of FCPX's advanced editing tools.
Lesson 4- Finding the Statue in the Stone: Editing the On-Camera Interview
We have a special way of editing the on-camera interview, the staple of all documentary films and videos. In this lesson, you'll discover how to tease the story out of an interview and how to build on that story with related visuals. You'll work on pacing, condensing time, creating rhythm, and making a compelling narrative out of your footage. Along the way, you'll experiment with a new set of FCPX editing tools.
Week 3
Lesson 5- Editing Music Videos
Who doesn't like music videos? And today, you'll learn how to edit them! We'll discuss the basic concepts and strategies for editing music videos, and you'll get lots of practice along the way. You'll import, analyze, and mark music; you'll use a few new editing tools to precisely adjust your cuts; and you'll make transformations to your images in the Viewer window. We'll also talk about how design principles and copyright influence the way you work.
Lesson 6- Saying It All in 30 Seconds: Editing a Promo
Today's lesson is about getting to the point quickly! You'll edit a promo video for a famous horror film. We'll cover the format-specific techniques for editing your video down to an exact 30 seconds in length. You'll rough out the elements in the script, analyzing the dialogue for its rhythms and finding exciting images to help tell the story. Finally, once you've trimmed your images to perfection by slipping and sliding your shots, you'll discover the power of FCPX's audio mixing tools.
Week 4
Lesson 7- Working With Auditions
Action, action, action! You'll edit a quick-moving action sequence in this lesson, and while you work, you'll discover the benefits of using Auditions, a special set of FCPX tools specifically designed to help you choose the best possible clips for your edits. After you cut the sequence, you'll discover how to fix problems with audio, and I'll also show you a convenient way to add music.
Lesson 8- Cooking With FCPX: Ingredients, Utensils, and Techniques
In this lesson, we'll explore important technical details about video files, FCPX customization, and some of the basic tricks of the editor's trade. You'll develop a better understanding of the kinds of files you'll use for different projects, and you'll discover how to tailor the FCPX work space to match your needs. Finally, I'll give you some useful tips for audio mixing, flipping images, and altering the speed of video clips for better editing.
Week 5
Lesson 9- Creating Magic in FCPX: Transparency, Compositing, and Animation
Today you'll conquer the brave new world of motion graphics. You'll develop basic skills for creating transparencies, combining multiple images, and animating different image layers. By the end of the lesson, you'll transform your raw project materials into complex visual compositions that harness many of the same techniques as the latest action movies!
Lesson 10- High-Tech Crayons: Color Correction in FCPX
This lesson is all about color! Color can be an important creative component of any video, adding emotion and giving new meaning to the visuals. Today, you'll explore the automatic and manual color tools in FCPX, while incorporating elements of color theory into your working method. You'll also use the professional tools of the trade, video scopes, to assure the quality and effectiveness of the colors and contrast in your images.
Week 6
Lesson 11- Pictures Tell Stories: Unleashing the Imagination With Still Photos, Video, and Narration
Can narration help you tell a story? Yes! That's what we're going to talk about in this lesson. We'll start by recording narration in FCPX's recording window. Then, using iPhoto as a companion to FCPX, you'll work with still photos and video to bring visual punch to your narrative descriptions. You'll explore the Crop tool and the Ken Burns effect, adding movement to your stills. And finally, you'll bring the whole thing together using Lower Third titles and Compound Clips.
Lesson 12- The Editor's Show Reel: Your Video Calling Card
Our final lesson is about showing the world what you can do! Your editor's reel features the best of your work in a short, exciting video showcase that you can use to impress potential employers, as well as friends and family. You'll get the inside scoop into all the things that will help you create the perfect reel. Using Roles, you'll create alternate versions of your work, and finally, you'll pull it all together by outputting distribution formats for the Web, mobile devices, and DVD.